Information Technology Services (ITS)
IT@UofT strategic plan
Overview
The University of Toronto's (U of T) IT@UofT strategic plan focuses and guides our efforts to support the University's academic mission through information technology services, informing the vision, framework and initiatives, both within the Information Technology Services (ITS) division and across the University. Additionally, the strategic plan, directed by guiding principles, will provide a clear picture of and lead our IT investments in a rapidly evolving environment. In effect, this plan will shape IT@UofT.
---
NEW
IT@UofT Strategic Plan Annual Report (2021)
The IT@UofT Strategic Plan Annual Report (2021) was released on November 25, 2021. It highlights ITS' work and achievements and our collaborative efforts with unit and divisional partners from September 2020 to August 2021. Since our last report, we have been called upon to continue evolving our response to urgent academic and workplace needs, plan our recovery as we return to campus and reset our priorities to leverage digitally enabled workflow and business process capacity. Highlights profiled in this report feature key projects that advance our strategic initiatives and support our core values. Despite the exceptional challenges we have faced, together with the IT@UofT community, our progress continues.

Pandemic response & recovery
We have been called upon to exercise agility in supporting the evolving teaching, learning, administrative and research needs as we navigate the challenges of the COVID-19 pandemic at U of T.
The 2021 annual report highlights the ways in which we have responded and adapted to areas including:
Protection from security threats
Online tools for IT service access and information
Support for remote/online learning, teaching and research
Tools and resources for return to campus
Strengthening administrative infrastructure
Network and data infrastructure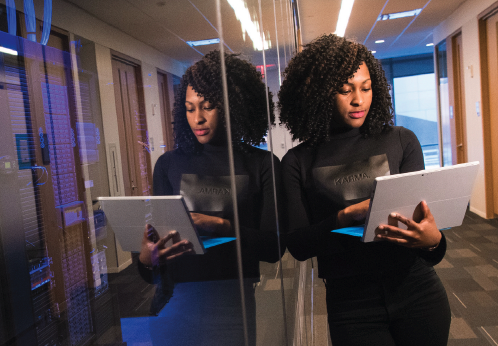 Reset to prepare for the future
Through the following initiatives, we aim to take lessons learned from our emergency pivot to remote work and study and apply it to improving services or leapfrogging to new digitally enabled models.
Continue implementation of the Student Success Hub
Modernizing current AMS financial operations
Implementing SAP SuccessFactors Employee Central
Rebuilding My Research Applications and Agreements System
Introducing Azure for Research
Hosting Connect+Learn sessions
Developing Learning analytics infrastructure
Expanding the Academic Toolbox
Tracking our progress
All ITS units are tracking progress on more than 300 projects that together represent our collective advancement of priorities identified in our strategic plan. Available data can be analyzed by strategic pillar, three-year goals and individual initiatives to provide concrete reporting on our achievements to date.
Visit the dashboard to view ITS initiative progress.
---
IT@UofT:
update
Nov. 25, 2021: IT@UofT Strategic Plan Annual Report (September 2020 to August 2021) released
April 14, 2021: ITS launches new IT@UofT Strategic Plan Delivery training
Nov. 26, 2020: IT@UofT Strategic Plan Annual Report released
July 27, 2020: ITS showcases ITS project tracking progress to EITU committee
May 15, 2020: ServiceNow tracking IT@UofT Strategic Plan Delivery-related projects
---
Infographics
IT@UofT solutions
This infographic illustrates the demand for technology solutions during a year of remote work.
---
ITS values: Culture of learning
This infographic illustrates how people across the tri-campus community live out the ITS core value of culture of learning year-round.

---
Past reports
IT@UofT Strategic Plan Annual Report (2020)
The IT@UofT Strategic Plan Annual Report (2020) was released on Nov. 26, 2020. Review progress updates as they align with the IT@UofT strategic plan thematic pillars: People, Solutions and Collaboration.
IT@UofT Strategic Plan (2019 – 2024)
The plan has been created with the input of all staff within ITS and key stakeholders from the broader University of Toronto community, under the guidance of a highly engaged steering committee. Learn more about our community engagement process.
---
Gallery
---
Contact us
Your feedback and questions are valued and welcome.
Contact us with comments or inquiries at cio.office@utoronto.ca.
Office of the Chief Information Officer
University of Toronto
Simcoe Hall
27 King's College Circle, Room 5
Toronto, ON M5S 1A1
Canada