Information Technology Services (ITS)
ITS staff take home 2023 VPOREP awards
Published on: September 8, 2023
Each year, exceptional Operations & Real Estate Partnerships (OREP) staff members are recognized for their contributions to the success of their units, the OREP portfolio and the University of Toronto. This August, the eighth annual awards celebration and BBQ brought together 650 staff in the University College quad. Congratulations to the ITS staff members who were among the winning teams and individuals!
The OREP Impact Award
The Impact Awards recognize individuals or teams who, above and beyond their regular roles and responsibilities, have developed, revised or implemented a system, tool, process, initiative or program, which concluded in the last calendar year, that had a positive impact within their unit, portfolio or across the University.
Impact Award (Individual)
Xin Xiang, Senior Identity and Access Management Administrator, Information Security
Xin is a crucial member of the Identity and Access Management team in Information Security. Xin's work has positively impacted virtually everyone at the University, creating value and efficiency, fostering innovation across existing services and reducing information risk at the University. Xin is an unassuming but essential person within the Identity and Access Management team, leading by example daily, from her desk and within meetings. Her quiet, consistent excellence deserves recognition.
---
Impact Award (Team)
EASI Rocket Shuttle Migration team
This team was nominated for their highly successful efforts in transitioning over 260 users from Rocket Shuttle to a new modern and powerful reporting platform. For almost a quarter of a century, Rocket Shuttle has been the only ROSI reporting tool available to divisions in support of their operational information needs. Rocket Shuttle no longer met the expanding needs of the ROSI community. A more modern reporting tool which aligned with the University's security model and provided the flexibility to accommodate advanced queries and professional dashboards and analytics had become an urgent need. Taking up this challenge was a highly resourceful and dedicated team, charged with finding solutions to move thousands of legacy reporting queries and programs across the University to the new Azure PowerBI and Data Studio platform before our contract with Rocket Shuttle expired in June 2023.
Katie Babcock, Senior Communications Officer, EASI
Rod Branch, Manager, Client Services & Process Integration, EASI
Tammy Chan, Information Systems Analyst, EASI
Pierre Hanna, Team Lead, Client Services and Process integration, EASI
Titus Hsu, Azure Platform Engineer, EASI
Alim Lalani, Information Systems Analyst, Client Services and Process Integration, EASI
Dmytro Larichiev, Security Administrator, IDH, EASI
Amy Li, Intermediate Power BI Reports Developer, EASI
Moulika Ranikunta, PowerBI Platform Developer, EASI
Joanne Sukhai, Information Systems Analyst, EASI
David Wang, Data Solutions, EASI
Bruce Zhu, DataOps Administrator, EASI
---
Multi-factor authentication (MFA)
In March 2023, the MFA program successfully completed with the enrollment of U of T's staff and faculty (~40,000) and students (~100,000). The adoption of MFA has significantly reduced the number of compromised accounts from almost 1,000 accounts per month to nearly zero, therefore reducing cyber risk exposure for U of T. The Customer Advisory Group and steering committee were also essential in guiding the program through its life span, in addition to their broad support in engaging their communities. With this engagement, the project team devised flexible approaches to meet each community's needs, enabling each unit to dictate the best way to deploy MFA in their own context.
Arathi Devadas, Education and Awareness Officer, Education, Awareness & Culture
Deyves Fonseca, Associate Director, Information Security Operations, Information Security
Luke Sutherland, Senior Business Systems Analyst, Information Security
Matt Wilks, Senior Identity & Access Management Architecture, Information Security
---
Wellness pilot program
As we all know, the last three years have been challenging with many people looking to University resources to help restore personal and workplace healthy living habits. Entering this fray last October was a team of very creative and energetic people within EASI, who, in partnership with PSEC, launched a new Wellness Pilot Program as part of our return to campus efforts. Over the subsequent six months, the team, with guidance from Richa Chodha, a Workplace Wellness Coordinator with PSEC, provided managers and staff with curated sets of well-being materials to allow for quick and easy access to wellness tools provided by the University. This was a grass-roots program initiated by staff for staff and is a great example of shared leadership in the workplace. An EASI Wellness SharePoint site was created to save all the wellness kits and will act as a resource site going forward.
Jimmy Au, Client Support Analyst, EASI
Vikram Chadalawada, Assistant Director, Student Info Systems, EASI
Justin Charlick, Meeting Room Technology Coordinator, EASI
Dana Pogaceanu, Business Analyst, User Experience Designer – SIS Core System Products, EASI
Aline Pruvot, Services Engagement Coordinator, EASI
Mariana Vardaei, Executive Assistant and Office Administrator, EASI
Vicki Vokas, Senior Manager Client Services, EASI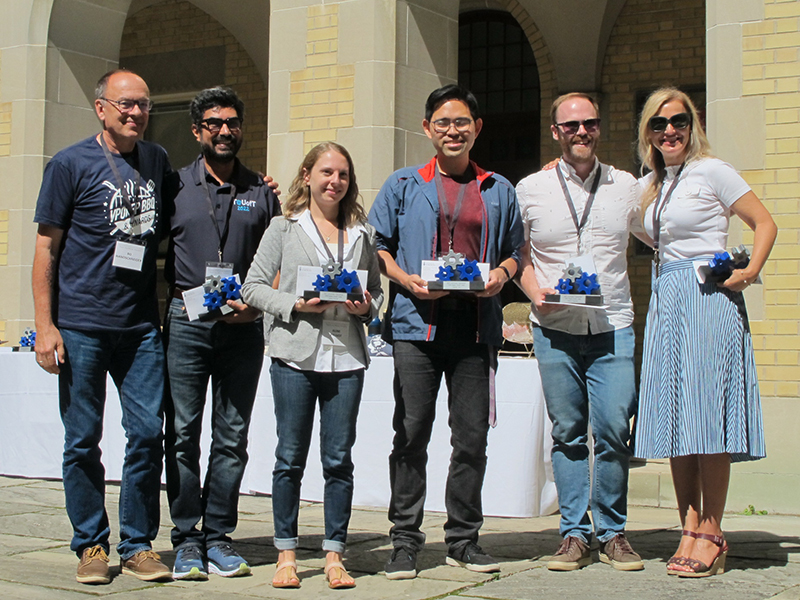 ---
Distinguished Service Award
The Distinguished Service Award is presented to an employee with more than 15 years of service at the University who has made outstanding contributions that go beyond the ordinary fulfillment of the position's duties.
Cathy Eberts, Deputy CIO and Executive Director, EASI
For over three decades, Cathy has been extremely committed to the success of the University. She has been an exceptional leader, a fantastic mentor and an astute problem solver who has gained the trust and respect of the entire U of T community. She has been instrumental in building a very strong, dedicated team within Enterprise Applications while achieving a significant level of cost savings, efficiencies and modernizations for the University at large through her deep involvement with the various initiatives.
Cathy's ability to find practical solutions under the most difficult of situations makes her an exceptional mentor and a trusted advisor who can dive right into any conversation, navigate to the heart of the issue and use her vast experience gained on the field to provide a clear direction to deal with complex problems. This was evident during the pandemic when she worked tirelessly to support on campus rapid testing, vaccine pop-up centres and the Thrive app for COVID-19 self-assessment.
Within EASI, Cathy has successfully sponsored various fun and engaging staff motivational programs. Cathy's ability to make the workplace exciting and fun has always strengthened collaboration within her department.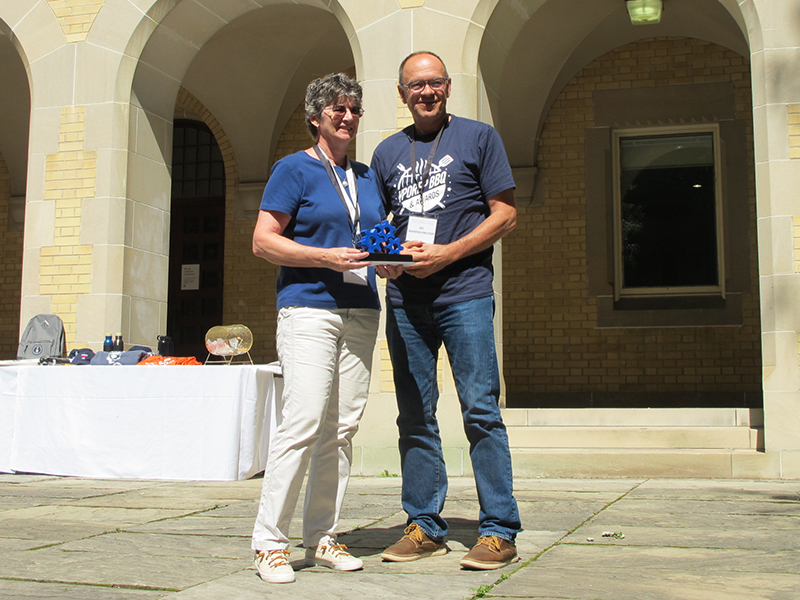 ---
Pamela Harris, Associate Director, EASI
Diligent, fiercely loyal and no-nonsense are words that clearly describe Pamela. During her 23 years at the University, she has been instrumental in building EASI into the department it is today and helping the IT community navigate the broad and blue waters of our current enterprise systems.
Beginning with reporting and analytics in the early 2000s, Pamela established the first Business Intelligence team at the University, expanding this over the years to include new tools such as Cognos, Tableau and PowerBI. Under her leadership (and maritime sense of humour!), our BI data warehouse infrastructure and associated team analytics skills grew exponentially, and now support and guide a broad range of institutional goals for senior leadership.
As EASI's focus changed and grew, Pamela was responsible for orchestrating restructuring plans that were inclusive of existing staff while at the same time encouraging positive changes to be implemented within various teams. She has worked tirelessly behind the scenes to ensure we have a comprehensive plan for training and upskilling of employees, particularly in moving from ABAP to Java programming languages. She has been an active mentor through the U of T Mentorship program as well as for her staff, helping them determine their career paths through her coaching.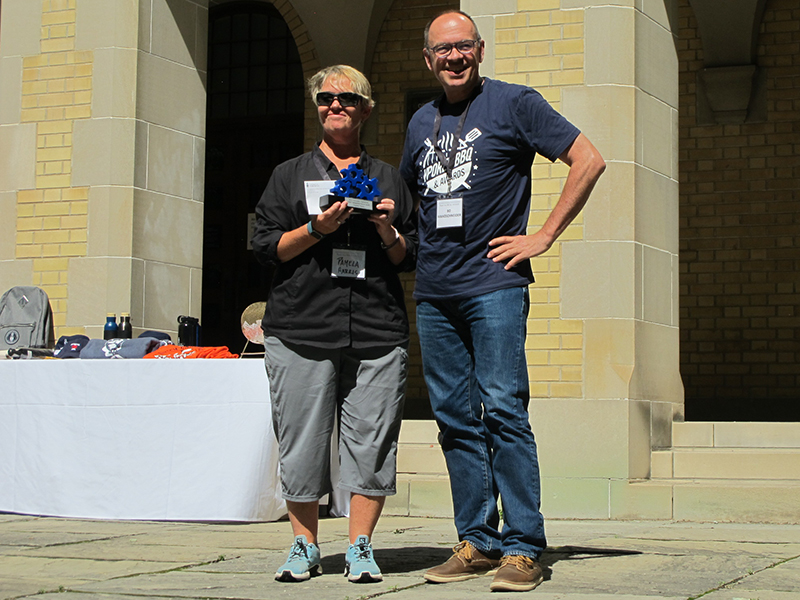 ---
Service Excellence Award
This award is presented by units to their unsung heroes. Those staff members whom the unit simply could not do without!
Laurie Harrison, Director, Digital Learning Initiatives
Laurie should be recognized for the work she has done above and beyond her 'day' job. Laurie recognized the need to reinvest in our staff as we came out of the pandemic. She has led the charge of the new team development program for ITS. She has also used her skills from previous roles as a consultant, along with her PhD from OISE, to roll out a series of initiatives for onboarding, management growth, career development and IT skills training. We have no idea where Laurie finds the time, but this is a huge contribution that enriches our IT@UofT people.
---
To see the full list of 2023 VPOREP winners from across the University, visit https://vporep.utoronto.ca/congratulations-to-our-vporep-annual-award-winners-2023/.