Language, accessibility and ableism (online)
September 27, 2022, 10:00 am

-

12:00 pm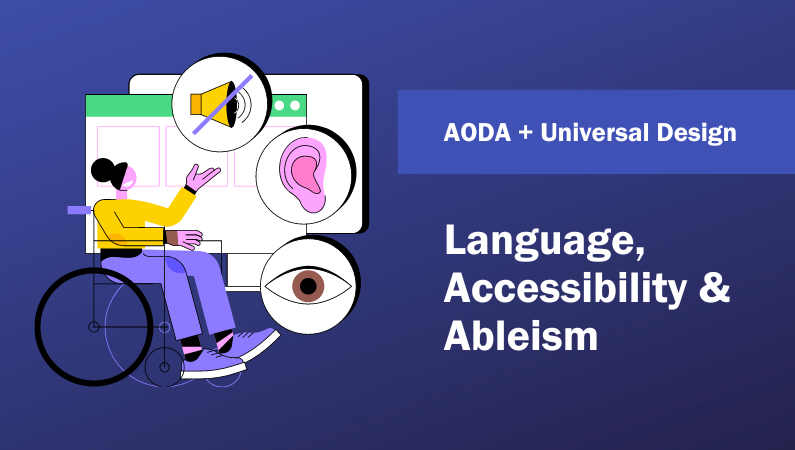 Virtual online session
This session will provide participants with a foundational knowledge on how communication and language can create barriers to accessibility, and how to address these barriers. Participants will be (re-) introduced to AODA guidelines for accessible communication, language and terms that may be problematic, invited to consider how language changes over time, and to discuss how this knowledge might change interactions with all members of the University community moving forward.
Proposed learning outcomes
Describe key parts of social and legal (i.e. AODA) contexts relevant to accessible communication
Identify problematic terms and understand how ableism informs the use of these terms
Apply this knowledge to our everyday practices to create an inclusive community without barriers for folks with disabilities
Presenters/facilitators
Reshma Dhrodia, Accessibility Advisor, Accessibility Services, St. George
Ben Poynton, Accessibility for Ontarians with Disabilities Act (AODA) Officer
Session format
Participants will be asked to read a few articles in advance of the session to prepare. We anticipate this may take one to two hours.
Following an introductory presentation, participants will be put into breakout rooms to discuss the articles and answer some preset questions.
The small groups will then re-join the larger group to debrief breakout room discussions.
Accessibility notes
Platform access information: This session will be delivered using MS Teams and use the live-captions function. Information on how to access the captions, and all other accessibility information for MS Teams, can be found at the MS Teams accessibility page. General information on how to use MS Teams can be found on this EASI MS Teams Meeting instruction sheet.
Breaks: one 10-minute break will be provided at the one-hour point.
Participation: participants are invited to engage in spoken dialogue throughout the breakout sessions, as well as during the larger group discussion. Participation via the chat function within MS Teams is also welcome. Any questions you might wish to be addressed can be sent to Ben Poynton (ben.poynton@utoronto.ca) ahead of the session.
Presentation: an accessible PowerPoint presentation will be used for the introductory portion of the session. This will be emailed to participants ahead of time.
Questions: If you have any accessibility questions or are looking for further information on how we might support your participation, please contact Ben at ben.poynton@utoronto.ca and he will work with you to make appropriate arrangements.
Registration
Register for the event on the official event page. Registration closes on 22 September at 12pm.