Information Technology Services (ITS)
CANHEIT 2023: Strength in community – Exploring the power of collaboration and connection
Published on: July 5, 2023
On June 19 – 21, the 2023 Canadian Higher Education Information Technology (CANHEIT) conference brought together IT professionals from across Canada's higher education sector to share ideas, showcase best practices and learn from each other. Overseen each year by the Canadian University Council of Chief Information Officers (CUCCIO), the University of Toronto was proud to host this year's conference at their St. George campus.
Under the theme "Strength in community", CANHEIT 2023 featured a diverse program consisting of thought-provoking keynote presentations, panel discussions and breakout sessions that focused on innovating together, collaboration, people and leadership and security as a team sport.
"The sessions and experiences at this conference really highlighted the importance of our theme, strength in community," says Bo Wandschneider, CIO, U of T. "It was exciting to see this community and this conference enriching the higher education IT community through knowledge sharing, collaboration and connection."
In addition to the 551 in-person attendees and 172 virtual attendees, the conference featured:
Three keynote presentations
71 breakout sessions
27 sponsor booths
One capture the flag activity
63 volunteers
Two social events
Conference highlights
The conference opened with an inspiring keynote address by Pete Bombaci, who emphasized the power of human connection for individual and business success. Drawing from his experience leading The GenWell Project, Pete highlighted the transformative impact of proactive face-to-face social connection on health, happiness, longevity and society as a whole.
To close out the three-day conference, Professor Hod Lipson from Columbia University delved into the remarkable advancements of AI and robotics technologies. He explored the trajectory of AI, focusing on the six waves that will shape its evolution. He offered a thought-provoking analysis of what is driving AI and what that means moving forward.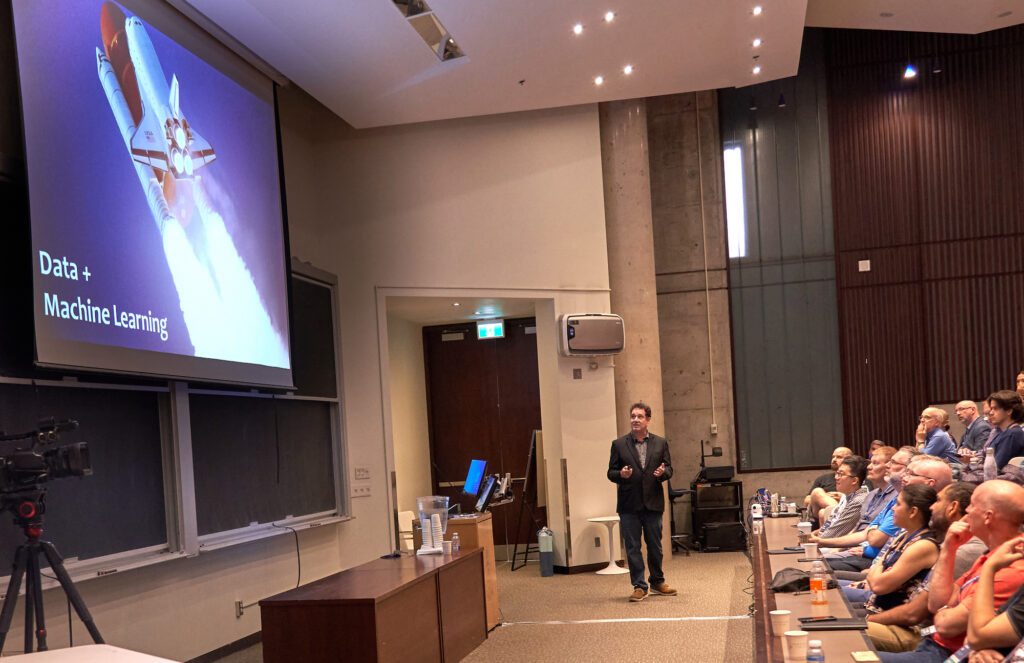 CANHEIT 2023 also provided a platform for industry leaders and technology vendors to showcase their latest products and services. Participants had the opportunity to interact with vendors, explore demos, and discuss their institution's specific needs and challenges.
Social events facilitated opportunities for attendees to engage in meaningful conversations with fellow attendees and celebrate their hard work. Congratulations to U of T's Air Travel Emissions Mitigation Initiative project team for winning the Innovation award at the CUCCIO Awards Gala!
"This recognition is greatly appreciated by the entire team that worked on this project," says Albert Trinier, ATEMI Project Manager, Sustainability Office. "A significant amount of work went into developing a tailor-made program utilizing preexisting tools to track air travel emissions and fund projects to mitigate their emissions. By building an internal program informed by best practices from around the world, U of T is positioning itself to be a leader in addressing Scope 3 emissions and tackling climate change"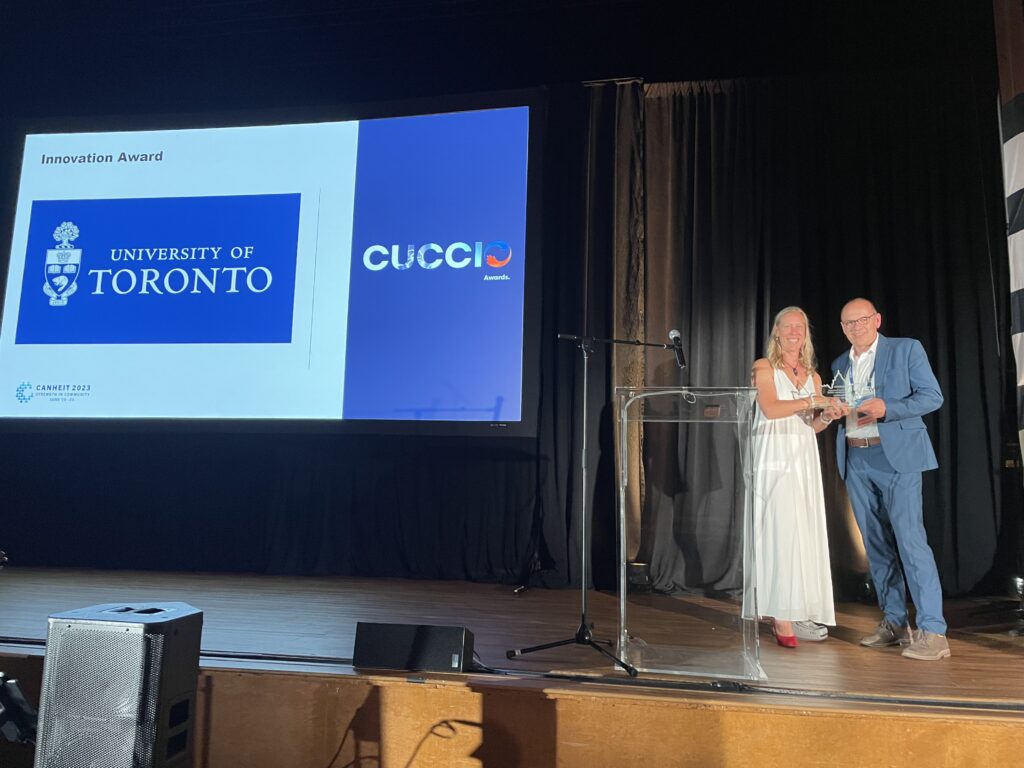 "I immensely enjoyed my first CANHEIT as Executive Director," says Lindsay Sill, Executive Director, CUCCIO. "I had incredible conversations and was inspired by the opening keynote to engage with as many people as possible. The highlights for me were the closing keynote (may be one of my favourites of all time); the CIO panel "A road paved with good intentions" (full of all sorts of wisdom and tips and tricks) and the presentation from Steve at CAUDIT on their procurement model (great to learn from our international colleagues and be inspired by their way of doing things). I also had a lot of fun at my fireside chat with Gayleen Gray and the Awards Gala. This community is so special and I'm grateful to be a part of it."
Thank you to everyone who made this event a success. We can't wait to see what is in store for CANHEIT 2024!
Photo gallery