Information Technology Services (ITS)
Official Chief Information Officer communications process
This document outlines the process that Information Technology Services staff must follow when requesting to send official communications from the CIO office email inbox cio.office@utoronto.ca with the CIO's signature.
Type of messaging and criteria typically included in a CIO office email message:
High-priority messages to all ITS staff
Messages that relate to remote work or Alternative Work Arrangements
Human resource-related messages
Leadership messaging
Time-sensitive content
Messaging related to initiatives driven/lead by the CIO office
CIO internal communication updates
Messaging that includes the CIO's signature or sent on his behalf
If your proposed message meets these criteria, please follow the official CIO communications process, outlined below.
Please note that certain types of communication have been pre-approved and only require final approval/review by Carrie Schmidt. Examples include:
Thursdays@3 notices
CIO internal communication updates
EITU and ACE-IT committee meeting notices, agendas and materials
If your message does not meet the above criteria, please consider another form of distribution. All general administrative or technical emails can be sent by Andrea Eccleston, from the general.ITS.updates@utoronto.ca account. Additional options include distributing the message from an ITS director or manager's email account or from a departmental account within ITS.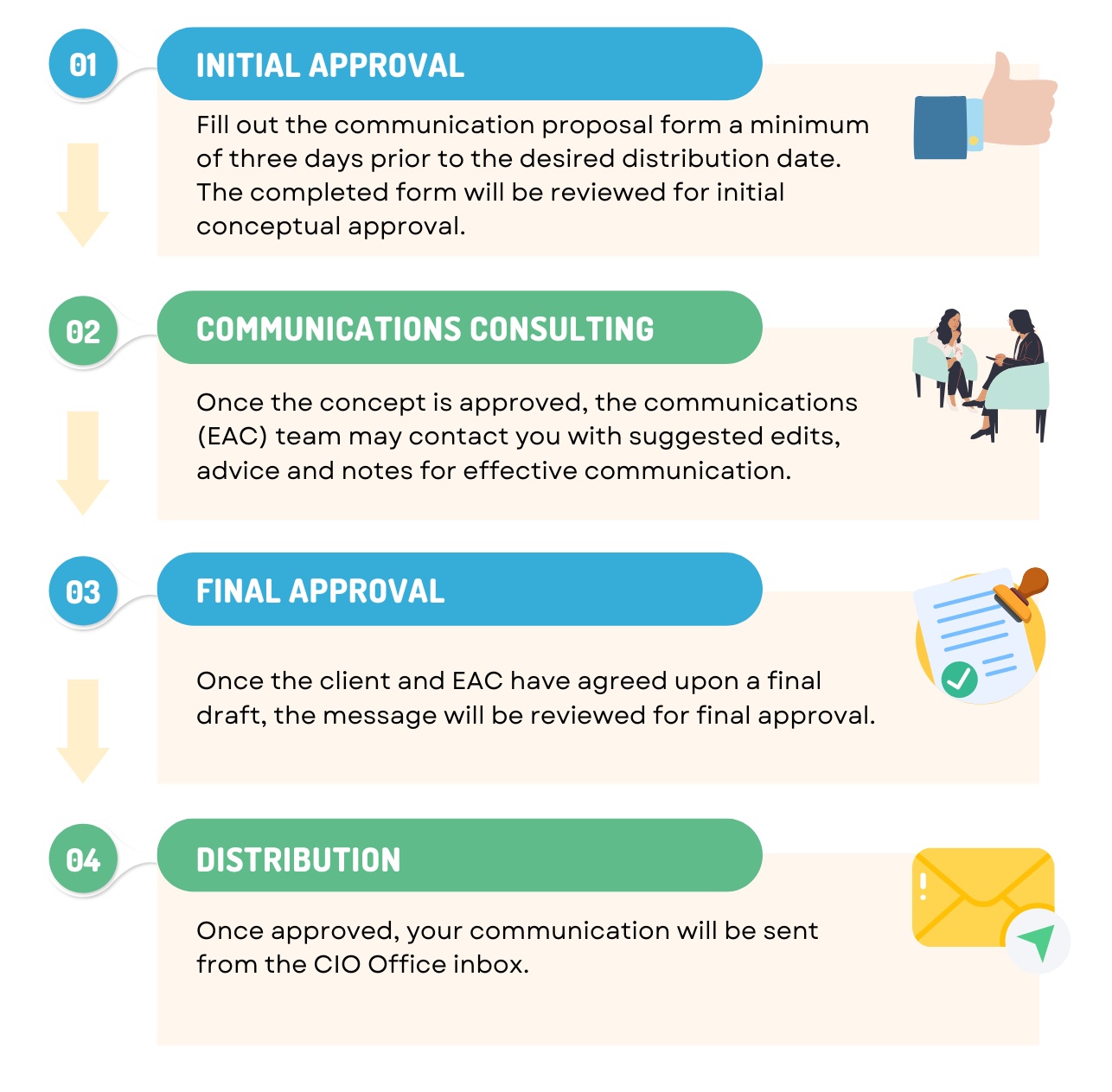 Communications process for CIO office emails
Initial approval: Fill out the communication form a minimum of three days prior to the desired distribution date. The completed form will be reviewed for initial conceptual approval.
Communications consulting: Once the concept is approved, the communications (EAC) team may contact yo with suggested edits, advice and notes for effective communication.
Final approval: Once the client and EAC have agreed upon a final draft, the message will be reviewed for final approval.
Distribution: Once approved, your communication will be sent from the CIO Office inbox.
Resources
Questions?
Contact: