Information Technology Services (ITS)
Windows XP End of Support
Published on: April 7, 2014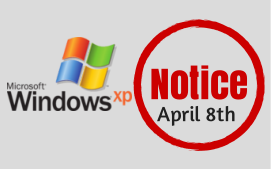 A friendly reminder to the community that Windows XP will reach the End Of Support from Microsoft on April 8th, 2014.
It is highly advisable that you migrate existing Windows XP workstations to Windows 7 to ensure security and integrity of systems and personal computers. 
There are resources and options available to ease the migration, including the Microsoft Campus Agreement (EES), which allows faculty and staff to upgrade University owned workstations to Windows 7 at no cost.
If departments are running "unique" software that may not be readily migrated to a new version of Windows, in those scenarios Microsoft will extend EOL support for a specified charge per workstation annually. If this is an option departments would like to pursue, please contact Ivan Sestak for more details.
Technical staff may feel free to reach out to the InfoTech Community in the event of migration issues or further questions.
For community members who are still operating Windows XP, please go to the official Microsoft article on the end of support for XP located here.