Information Technology Services (ITS)
What is eCampus Ontario?
Published on: February 26, 2016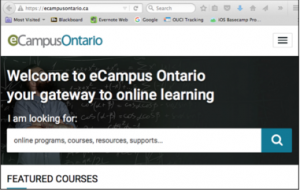 Introducing the Province's new online education portal, eCampus Ontario. The University of Toronto has a total of 9 fully online undergraduate courses on offer through the new portal. Development of curriculum content for these courses was supported through the provincial Shared Online Course Funding program, which has been available over the past two years. Recently we have also had the opportunity to create a selection of sharable online module resources from the same funding initiative.