Information Technology Services (ITS)
VOIP Update – October 2017
Published on: October 4, 2017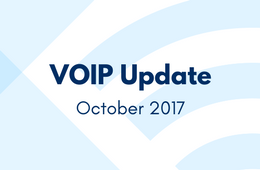 Since the beginning of the U of T's VOIP project in May of 2017, the Telecommunications team has moved over 1,030 telephone lines to Voice over IP service, representing 20 departments and divisions across the university community.
Upcoming Information Sessions
Telecommunications at U of T is hosting information sessions throughout the fall to provide an overview of the new VoIP service available at the University. The sessions, one hour in length, will start with What is VoIP? and cover benefits, plans, costs, and the process of moving to VoIP.
For more information, visit U of T's Telecommunications website.
Questions?
Want to learn more about moving to VoIP? Visit our VoIP FAQs and check out the other VoIP pages on the site, or attend one of our upcoming info sessions this fall.