Information Technology Services (ITS)
Update: Microsoft Home Use Program
Published on: October 8, 2015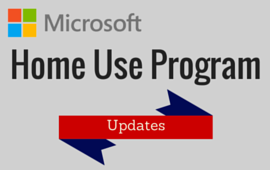 As of October 8, 2015, The Microsoft Home Use Program released a number of changes. 
What's new:
Office 2016 is now available for purchase through the Home Use Program at the same rate of $11.00 for Windows or MacOSx. 
Important Changes:
While the old versions would allow clients to install the purchased license of Microsoft Office on two (2) computers, the new version (2016) only allows installation on one (1) computer.

Clients can no longer purchase a second copy through the Home Use Program.

If more than one license is required, clients will have to buy a retail copy at full retail price.

There are no free upgrades, even if clients purchased a previous version recently, the new version must be purchased.

 

MacOSx clients need to have OSx 10.10 (Yosemite) or later installed for Office 2016.
What's the same:
P

reviously purchased version of Office will NOT stop working.

 

You can only purchase either Windows or MacOSx version, not both. 

If you purchased a Windows license before, you can purchase a MacOSx version for 2016 without disabling your previous version for Windows; however, you will not be able to purchase Windows Office 2016 as well. The same applies if you previously owned only a MacOSx version and would now like to purchase a Windows 2016 version.
Where to get support:
All Microsoft Home Use Program support is provided by Microsoft.
Request access to the Microsoft Home Use Program (new clients):
Go to: Microsoft Campus Agreement site from the U of T Campus or VPN connection to the U of T network
Enter your UTORid and Password to authenticate
Agree to the Terms of Use
Click on Home Use Program Button
Follow the instructions to register
Check your email for the registration email, which will include the U of T Program code and further instructions
Go to the Microsoft Home Use Program site to purchase the latest copy of Office for your Windows or MacOSx machine