Information Technology Services (ITS)
UofT Student Wins the Top Prezi Award
Published on: November 25, 2013
Amy Chong, an MBA student at the Rotman School of Management at the University of Toronto, took the grand prize for 'Canvas my Campus' contest held by Prezi.com, an innovative web-based presentation tool.  Prezi offers an alternative to the classic presentation tools like PowerPoint and KeyNote by giving users a free online canvas which lets presenters step away from the slide deck and create something outside the box.   Amy told a simple story about why "We Love U of T" and took the grand prize which includes a trip to San Francisco based Prezi HQ and a free one year subscription to Prezi Pro for the University of Toronto. 
So the question is, do you Prezi? Don't worry if you don't (yet), we were surprised to hear that Amy actually never used Prezi before she entered and won this contest! It goes to show how today's innovative tools really respect usability and friendly design.  The learning curve is dead, and innovative companies like Prezi don't require it, and instead enable every user to feel like a pro the first time they use the tool.
Meet Amy Chong: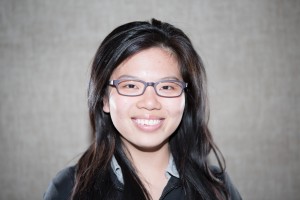 Six years ago when Amy first hit U of T, she fell in love with the human side of engineering. She started drinking the Kool-Aid after using the human-centered design approach on a project, and saw how designing with people in mind unleashed truly innovative, impactful, and useful ideas. She's in flow when she's challenged to play with and to solve seemingly impossible problems. Now, Amy is back at U of T (she just loves it here!) for her MBA because she's convinced that business, engineering, and design together can change the world.
Amy loves traveling the globe and trying new foods, but most recently started hoarding marathon medals (3 races and counting!).
How did you find out about the Prezi contest?
I found out about the competition from Prezi's newsletters.
What is the value of this type of innovative tool in your academic career?
This was actually the first time I used Prezi, and I think it's a great tool to tell a powerful story in a captivating way. The Prezi canvas allows you to be more free, creative, and non-linear when structuring your presentations. After discovering Prezi, I'm sure to use it a lot more and learn different ways to utilize the software.
What other technology do you utilize in your academic work?
InDesign is another tool that I normally use to visually communicate an idea. I would love to learn Illustrator next. Also, Excel is definitely the go-to for data mining and analysis, it's widely used in both engineering and business.
 What do you hope to achieve by going to the Prezi HQ in San Francisco? 
I'm looking forward to meeting all the interesting people on the Prezi team, learning more about their business (hopefully by getting my hands dirty on a problem that's keeping them up at night), and getting an insider's perspective on the tech industry in San Francisco. This is an amazing opportunity to listen, learn, get inspired, and further my passions.
Amy's winning Prezi