Information Technology Services (ITS)
U of Calgary Cyber Security Incident
Published on: June 14, 2016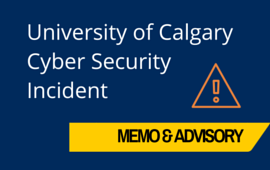 Recently the University of Calgary experienced a widespread loss of access to multiple university services due to a cyber security incident involving 'ransomware'.
Ransomware is malware introduced to a targeted device in which files are encrypted, or locked, and become inaccessible. Perpetrators then attempt to extract payment from the victim in exchange for the keys to de-crypt, or unlock, and recover the files.
The University of Calgary Incident:
The details of the incident have not been released. The media has reported that ransomware was used to block access to key institutional services including email and VPN (remote network access). University of Calgary has subsequently returned to normal operations.
What does this mean for U of T?
Information Technology Services is actively tracking this event. U of T cyber security practices are being evaluated to determine risk and any additional mitigation actions that can be taken. Concurrently, we recommend that all users follow safe computing practices to reduce the risk of ransomware and all other cyber security risks.
Safe computing practices to follow:
Ensure your computer software is up to date. Managed desktops at University of Toronto already have this protection in place.
Do not open suspicious email attachments or links.
Never share your personal login credentials. University of Toronto will never ask you for your username and password.
Ask your IT support team about browsers that protect against downloading malware.
Do not browse casually on a computer you use for work or that holds valuable information.  
Confirm your files are securely backed up in case you need to recover them. Managed desktops at University of Toronto already have this protection in place.
Apply the same care as well to your mobile devices and home computers.
The community may also visit the Top 10 Online Safety Practices article at this link: https://its.utoronto.ca/news/top-10-online-safety-practices/
Further advice:
We encourage you to contact your local IT support team if you have additional questions. See this link: https://its.utoronto.ca/help-support/