Information Technology Services (ITS)
TKF2018 Call for Presentations
Published on: March 9, 2018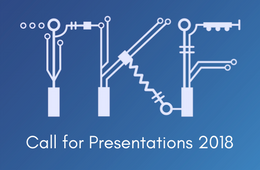 We are pleased to announce the TechKnowFile 2018 Call for Presentations.
TechKnowFile (TKF) provides a forum for U of T's Information Technology professionals, Administrative and Academic staff, to share, discuss, and disseminate their innovations, viewpoints, and technical achievements.
At TKF, views on current IT trends, thought leadership, and new technologies are presented by community members. We are also pleased to welcome TKF sponsors as they share their latest technologies and viewpoints on different aspects of IT.
---
TechKnowFile 2018
TechKnowFile University: Year 4 – Graduation
2 Days of IT Learning / May 3 & 4, 2018
Bahen Centre for Information Technology
@ University of Toronto, St George Campus
---
Present at TKF2018
The U of T Community is invited to join TechKnowFile University by participating in one or all of the following ways:
PRESENT:  Conference presenters will be able to host a 50 minute session to showcase their work to the conference delegates.  Proposals are welcomed across all IT topics relevant to higher education technology, communication tools, management and leadership.
TEACH: Do you have a great skill and always wanted to teach a course? TechKnowFile is offering an opportunity to interested community members to teach a 50 minute hands on tutorial during the conference.
DISCUSS: We are looking for individuals who are interested in participating in vibrant and dynamic discussion panels on key IT issues.  The panels will be 50-90 minutes long, depending on the topic.
Not sure about what you might want to present?
Over the last few weeks, we consulted with different communities to learn what they'd be interested in learning about. Here are some of the popular topics:
Innovative ways to use videoconferencing tools in classroom or meeting room settings
Learning about active classrooms and new teaching station technologies
Opportunities for accessing the University's research computing facilities
Updates and information sessions on the newest enterprise systems – Office 365, Quercus, the Learning Management System, Voice Over IP Telephony
Newly released functions for ACORN and the Next Generation Student Information Services (NGSIS)
Information Security topics such as Next-generation firewalls, experience in information security awareness campaigns, anti-phishing exercises, multi-factor authentication
New electronic services for employees via the HRIS portal and ESS
Service Excellence using ITSM, new service management tools, portfolio and project management techniques, experiences in selecting project and portfolio management tools
Developing resilient IT organisations, building diversity, planning for succession
Practices for onboarding and offboarding employees and a window into new HR policies
Communicating and educating the community on IT services
Working collaboratively across divisional boundaries
---
---
Submission Deadline: March 28th, 2018
Questions? Comments? Ideas? Please email liam.karry@utoronto.ca.