Information Technology Services (ITS)
The Unified IT Service Catalog
Published on: September 8, 2014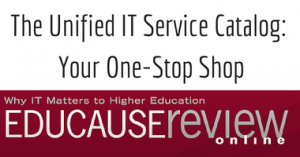 Over the summer, ITS' Planning, Governance, Assessment and Communications unit collaborated with ECAR and colleagues from Pennsylvania State University, VMware, Harvard University, and University of Washington to publish The Unified IT Service Catalog: Your One-Stop Shop for the EDUCAUSE Review Online. Staff from PGASP and ITS are involved in several ECAR working groups and committees, collaborating with North American colleagues on a number of Higher Education IT reports and recommendations.
Read "The Unified IT Service Catalog:  Your One-Stop Shop"  published on August 11th, 2014 for the EDUCAUSE Review Online.
"A service catalog provides an easy-to-use online portal for faculty, staff, students, and others — the customers — to learn about, and request, the services the institution provides. These services may range from academic, administrative, human resources, and finance to those associated with student life, but many service catalogs start out as an IT service catalog. As IT becomes more pervasive in all aspects of higher education, customers need a user-friendly way of navigating IT services. For this reason, institutional leaders, CIOs, IT leaders, or anyone interested in delivering exceptional service should understand what defines a unified IT service catalog, the benefits of the service catalog, and how to establish one.
While this article explores the benefits, challenges, and steps to creating a unified IT service catalog that spans multiple IT service providers, leading institutions are taking this concept further because IT departments are no longer the sole technology experts on campus. Across the institution, faculty have cracked the code for creating engaging online courses, and researchers have solved big data issues. The unified IT service catalog can become the one place to go, not just for formal technology help from IT departments but also to gain access to the institution's technology expertise regardless of where it resides."