Information Technology Services (ITS)
TechKnowFile2017 Presents
Published on: July 13, 2017
Huawei Lunch&Learn: 100GE, Plug&Play Agile Campus Network
| | |
| --- | --- |
| Date: | Monday, July 24st 2017. |
| Time: | 11:00 – 13:00 |
| Location: | Room 1230 Bahen Building, St. George Campus, University of Toronto |
| Registration: | |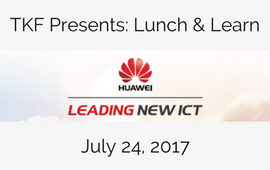 IT professionals are being asked to support more and more, however most of network configurations are manual occupying lots of your valuable time. Is there a plug and play network controller to save your time? Data traffic is exploding as of more mobile devices get connected, interactive classes, MOOC etc. How to design 100GE campus network and 2.5 GE 802.11ac wave 2 Wi-Fi ubiquitous coverage? During this lunch and learn session, we will cover following topics and address your network concerns.
Super high-speed campus Design
10G/40G/100G E2E solution
Optimized application-based service experience
Learning anywhere solution
Wireless coverage design in all scenarios (Office, library and large Classroom etc.)
How to Simplified O&M

Wired and wireless convergence
Real-time service quality detection, accurate fault location

Live Demo and Hands on real devices

Wired and Wireless Convergence, Wireless client free mobility
Switch virtualization, Virtualize one campus network into one device.
You will learn how smart network architecture to onboard users and services fast, as well as practical advice on how to design and build distributed Wi-Fi in your area of the campus.
About the Presenter: Bing Wu is Director of Technical Solution Sales at Huawei Canada, where his team works with clients who are exploring and implementing the next generation of networks based on software-defined networking. His team has worked on networking solutions for several sites at the Simon Fraser University, University of Toronto, University of Waterloo,Ryerson University, and George Brown College.
Register for event