Information Technology Services (ITS)
Printing Made Easy with UTSC's TCard+
Published on: November 25, 2013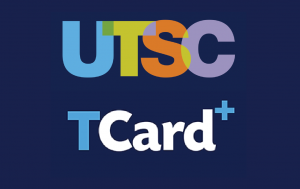 UTSC has introduced a new way of paying for campus services through the TCard. TCard+, introduced in September, allows students to load funds (TBucks) onto their TCard+ account online or using newly installed cash loading machines to pay for an expanding list of services on campus.
Students, faculty and staff can use TBucks to pay for printing and photocopying in the Computer Labs, Library and Copy Kats printing shop and  purchase food at all food vendors , bookstore and vending machines on the UTSC campus. Students can also use TBucks to purchase Meal Plans and save on tax.
Users can add TBucks to their card online by credit card, or by cash using cash-to-account loading machines. Debit option is expected for Winter 2014.  The system also allows a third party to deposit funds to the card, making it easier for parents to load the card online for the student.
Printing Made Easy
Print release stations have been switched to the TCard+ system and equipped with swipe card readers that read account information off the magnetic stripe. The new system is faster, more reliable and secure, and retains funds even if the card is lost. For students who still have funds on their old TCards, a few temporary chip readers are made available for limited time.
Mobile Print: 
Information & Instructional Technology Services has introduced a new method for printing from mobile devices, without the need for downloading any software. If you want to print a document, simply send it by email or upload it to the Mobile Print website for a quick release to the printer near you.
For more information on TCard+ system, visit http://uoft.me/tcardplus
For more information on IITS printing, visit uoft.me/utsc-print