Information Technology Services (ITS)
OUCC 2016 IT @ a Crossroads
Published on: March 3, 2016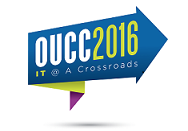 May 8 – 10 at Wilfrid Laurier University
Since 1970, the Ontario Universities Computing Conference (OUCC) has brought together computer technology professionals from academic institutions across Ontario and has focused on IT initiatives in higher education. In 2016, OUCC is being hosted by Wilfrid Laurier University (WLU).
In what will be its 44th edition, OUCC 2016 is shaping up to be an exciting conference for the Ontario Universities' IT community.
This year's theme "IT @ a Crossroads", will help foster active partnerships between Ontario's universities, facilitate idea sharing and collaboration, with the purpose of addressing the challenges higher education IT departments face today. As we move forward into 2016, it is imperative that post-secondary institutions in Ontario partner together to meet tomorrow's information technology challenges.
Planning is still underway, and additional details will be posted on the OUCC website, as they are finalized.
Those interested in presenting at OUCC may submit a presentation proposal: web.wlu.ca/oucc/index.php/program/