Information Technology Services (ITS)
OUCC 2015 Call for Abstracts
Published on: January 16, 2015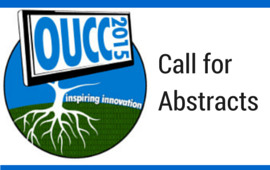 Trent University, the University of Ontario Institute of Technology and the OUCC Program Committee are delighted to invite you to submit proposals for OUCC 2015!
The Program Committee is soliciting abstracts on topics across the broad spectrum of services we provide for our institutions.
You need not feel limited to a presentation format – feel free to consider a panel discussion or "birds of a feather" session. Collaborative or panel/group presentations are encouraged especially if you're engaged on a project with another institution.
The deadline for submissions is February 27, 2015.
The program committee expects to make decisions and inform successful submissions by March 9, 2015.
You can submit your abstract on the OUCC 2015 website: