Information Technology Services (ITS)
New UTORid Account Recovery Service
Published on: September 15, 2015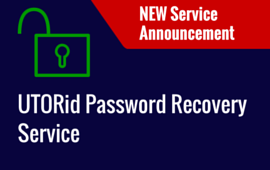 Information Technology Services launched a new UTORid Account Recovery (password reset) service this summer for the U of T community. Following a summer soft-launch, we would now like to invite the community to register for the service to help enable the use of the more convenient password reset option.   
Previously, online self-serve password reset was only available to students using challenge questions, whilst faculty and staff would have to visit a Help Desk in person.  The new service now offers a modern online password reset option via SMS (text) or alternate email to the entire community: faculty, staff, students and alumni.
How does the service work?
This service works by using alternate email or mobile number provided by the user to allow U of T to send either a password reset link to their alternate (non U of T) email or a unique six (6) digit code via SMS (text) to enable a password reset using the tool.
U of T staff, faculty, students, and alumni must first register for the UTORid Account Recovery Service to enable convenient password reset via alternate email or SMS (text). Users may consult the Step-by-Step Help Desk guide with screenshots on how to register for the service.
Users will need to know their UTORid and password to register for this service. Registration is only required once.
UTORid Account Recovery Frequently Asked Questions: