Information Technology Services (ITS)
New Flex plan curbs high data roaming fees
Published on: August 17, 2018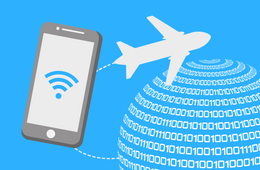 Data roaming charges decreased and convenience increased for University of Toronto corporate cell phone users thanks to the initiative of the telecommunications team in enterprise infrastructure solutions.
The team launched the new Flex roaming plan in May 2018. Flex ensures best rates are applied to the university's corporate cell phone account.
Faculty and staff travel frequently outside Canada on business and roaming charges were becoming an issue. Flex provides more affordable data roaming rates and fewer administrative hassles.
"The Flex plan is a success and will be in place for the foreseeable future," said Tony Danas, manager of telecommunications. "This was implemented to avoid high roaming fees while users are away from the local coverage area. The results are much less administration work and greatly reduced roaming charges.
"This initiative dovetails with ITS core values of service and operational excellence. We continually strive to deliver high-quality service to all of our clients across the university."
The Flex plan:
Automatically adds the Flex travel rate when travel is detected.
Eliminates the need to send a request to your business officer or Bell Mobility to install. It's automatically set for all U of T corporate account users.
Gets rid of need to send in data disputes like before if staff forgot to add a travel pack and then are surprised with a large data usage bill.
Saves U of T money.
Flex does not apply for cruise ships. These charges are billed directly to the user and are costly. Many ships offer on-board data packages that you can buy and expense with prior approval.
Flex is only for corporate cell phone users approved by your department and paid for by U of T. There are about 4,000 to 5,000 corporate mobile accounts.
Your best option? Purchase a SIM card at your destination and add data locally. This can cost as little as $20 for a new SIM and data package.