Information Technology Services (ITS)
Microsoft IT Academy
Published on: September 9, 2014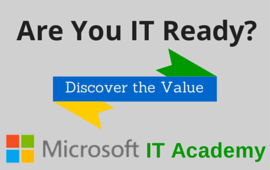 University of Toronto Launches Microsoft IT Academy Program to Help Equip Faculty and Staff with Skills for Success
Information Technology Services is pleased to announce the launch of the Microsoft IT Academy program to equip  faculty and staff with real-world technology skills needed to thrive in today's economy. University of Toronto joins more than 15,000 Microsoft IT Academies around the world.
Information Technology Services is committed to providing our community with the most up-to-date knowledge and skills.  Our membership in the Microsoft IT Academy program enables us to provide a road map to technology proficiency and industry-recognized Microsoft Certification credentials.
The Microsoft IT Academy program is a comprehensive program that supports ongoing technology education for faculty and staff spanning computer basics to high-level programming, along with information and communications technology management using Microsoft technologies. The program's resources include access to online learning content, Official Microsoft Course titles course materials and curriculum and instructor tools.
This new resource will provide a convenient and flexible learning environment where faculty and staff can get hands-on experience at no cost.
Staff and Faculty can login to http://itready.utoronto.ca using their UTORid credentials and access training material and resources as well as sign up for Lesson Plans for Virtual Training.