Information Technology Services (ITS)
Memo: Changes to Spam Filtering Thresholds
Published on: August 17, 2017
| | |
| --- | --- |
| To: | Members of the UofT Community via Distributed IT Staff |
| From: | AJ Hyman and Alex Nishri, Information Technology Services |
| Re: | Changes to Spam Filtering Thresholds |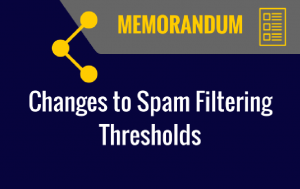 As you probably know, the University has been subjected to a large increase in spam over the last couple of months.
ITS staff have been working full out to configure anti-spam measures, however, some end users continue to experience instances of spam making it into their inbox.
Over the next little while, we will be making configuration changes we hope will improve the situation, starting with UTORExchange and UTMail+, and then UTORmail.
Currently, email with a 99% spam rating is stopped even before delivery. Emails with a rating of 60% to 98% are supposed to end up in a user's junk mail folder, if the user has their spam filtering settings set to 'moderate' (the default).
After the change, email with a 90% rating will be stopped before delivery, and we will be lowering the threshold for junk-mail delivery so that email with a spam rating of 50%-89% will end up in the user's junk-mail folder (again, when set to 'moderate').
Based on our testing, there is a very slight possibility of increased false-positives, where non-spam may end up in a junk mail
folder, so we encourage you to work with your communities to ensure best practices around checking email, and we continue to work with the Information Commons, who maintain excellent documentation on these best practices (http://help.ic.utoronto.ca/index.php?solution_id=2061).
And of course, individual users can improve their own experiences by maintaining their own account-based rules and filters, including setting the filter from 'moderate' to 'high' if they wish (http://help.ic.utoronto.ca/index.php?solution_id=2062).
If you have any concerns, please do not hesitate to reach out to us via help.desk@utoronto.ca
Thank you