Information Technology Services (ITS)
Learning for its own sake:
Published on: March 31, 2014
MOOCs at the University of Toronto
Interview for the CUCCIO Quarterly e-newsletter
Member Institution Profile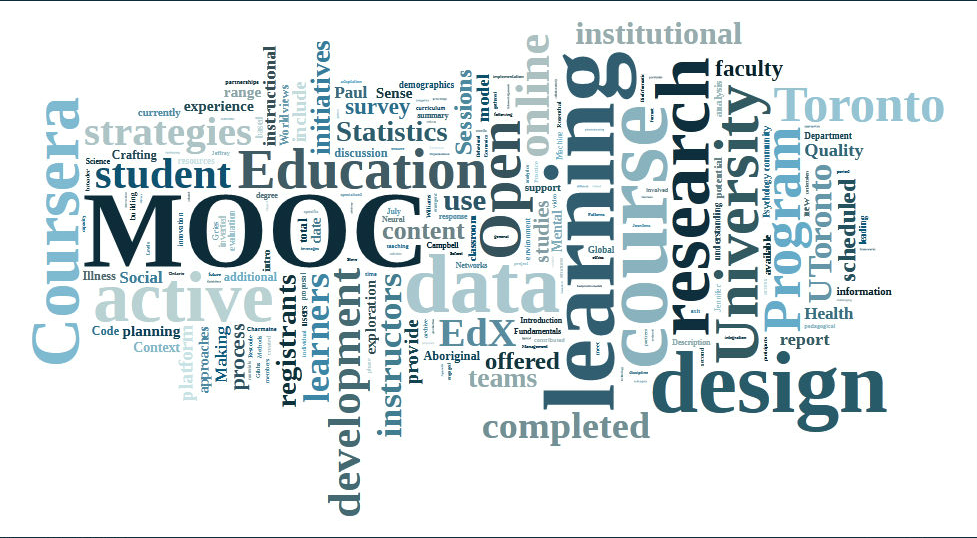 Massive Open Online Courses (or MOOCs) are becoming increasingly prevalent on campuses across the country and throughout the world. Issues around online learning are receiving unprecedented media attention, and universities of all sizes are beginning to explore the potential of MOOCs, raising questions around the future of online learning as we know it.
At the University of Toronto, more than 740,000 users worldwide have registered for a MOOC. When surveyed, about 80 per cent of respondents  indicated that they took the course simply for enjoyment, while 30 per cent were seeking credentials for their CV. For insights into how this major Canadian university is integrating MOOCs into their academic offering, we spoke to Laurie Harrison, U of T's Director of Online Learning Strategies.
CUCCIO: Let's begin by defining our subject. What do MOOCs mean to the University of Toronto?
LH: When we began developing our first MOOCs, in addition to wanting to explore, evaluate and conduct research, we also wanted to open up and contribute to the online education community – sharing offerings from some of our great faculty members as part of our Open UToronto initiative. We never intended that our MOOCs would replace our degree offering, and we have not pursued the monetization of our MOOCs. That said, some materials developed for online learning are repurposed on campus.
We work with two different online learning partners – we began working with Coursera in July 2012 and edX in February 2013. We are one of just a few institutions who have partnered with both platforms. We did this intentionally because we wanted to explore them both and the pedagogies they enable. We have 13 MOOCs in various stages – some in development, some currently being offered and others that have already been offered.
CUCCIO: What are the benefits you hope to gain through MOOCs?
LH: For one, MOOCs provide a means of engaging our faculty, creating a community of practice focused on online course design, and the kinds of dialogues we are able to have with faculty and other leaders within the institution around the intersection of learning and technology. This isn't to say online course design is new, but online learning at this scale is. Secondly, faculty members are often used to working independently, but the scope of these projects tends to involve educational, technical, resource and library staff – which creates an interesting team model. Third, developing the research and analytics component of MOOCs has also allowed us to ramp up our ability to work with big data.
CUCCIO: What are some of the challenges you've encountered so far?
LH: The most important challenge for us is around course design. We have developed a workshop model where we guide instructors through the process of determining their goals, as well as the skills, knowledge and attitudes they want their learners to develop. Then, based on what they identify, they are able to map out activities that will help them achieve their goals. We have found that, often, there is a limited awareness of the variety of activities you might undertake in a MOOC. Often, instructors consider just video quizzes or online multiple-choice tests. But our instructors identified a variety of goals, involving social interaction, engaging students, creating discussions, peer assessments and personalized assignments. As a result, we've become very creative with the types of activities we offer.
CUCCIO: One major concern around MOOCs is that the quality and legitimacy of university degrees may be jeopardized, if universities begin giving degrees based on MOOC credits. How do you respond to that?
LH: Our goals do not include granting credits or degrees to those who have completed our MOOCs. We want to provide high-quality MOOCs that support learning, and we do that by focusing on the design phase.
Much of the common perception of MOOCs is that people want to take them as an alternative to a degree course to get credit. But, from what we've observed, a lot of them just want to learn or connect with others in a particular community. So, not all of our MOOCs are based on existing courses, and you have to look at the goals of your instructors and learners to gauge success.
CUCCIO: How do you think the future of MOOCs will look?
MOOCs have put the intersection of technology and learning at centre stage. The attention it garnered through the media put it at the foreground, but lots of institutions were already having meaningful conversations around understanding the role and potential of online learning.
If you consider a typical hype cycle, I think we're past the peak of the hype cycle now, and maybe even passed through the low point – the criticism. If you look at the phase of integration, what aspects are scalable and useful, and can fit into the needs of institutions, research programs, outreach programs, reaching people who might otherwise not have access to learning – the potential is huge. The media often focuses on the negative, but that's not the conversation happening with folks working in the world of online learning. We see this as one dimension of long path of exploring and developing strategies for online learning.
We'll be hosting a MOOC research symposium on April 28, with five presentations from various researchers from within the "MOOCosphere" as we call it. This aligns with our research mandate and various aspects of our mission.
MOOCs are excellent enablers of collaboration. No one stakeholder who can carry a MOOC. You need to think about your goals, and that includes the goals of your instructors, program, institution and learners. And as we know, this isn't unique to MOOCs. What you learn through MOOCs is certainly transferable.
Read a full report on the first year of MOOC activity at U of T.