Information Technology Services (ITS)
Learning About ACORN
Published on: February 23, 2015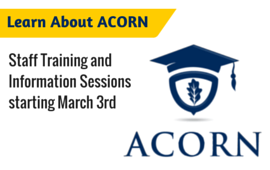 The ACORN project team will be holding staff training sessions over the next 4-6 weeks for those interested in learning more about the project and its impacts on staff and students. These sessions are open to all staff (functional and technical).  Sign up for a session by filling out our quick form here.
Sessions
March 3rd, 10-11
March 10th, 10-11
March 17th, 10-11
March 27th, 10-11
Sessions will be held in the training rooms (103 & 109) at 256 McCaul Street.
For those unfamiliar with this project, ACORN will replace the current SWS (Student Web Service) for students over the coming months with a more useful and usable online system. Please refer to the ACORN project page on the NGSIS website for a general overview.  We hope to see you at one of our upcoming sessions.