Information Technology Services (ITS)
Launching PMO.ITS
Published on: November 27, 2015
ITS Project Management Office (PMO) Launches New Website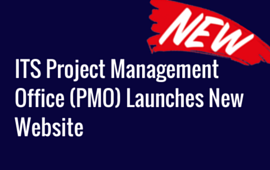 We are pleased to announce that the Project Management Office (PMO) within Information Technology Services (ITS) has launched a new website. The goal of the new website is to provide transparency on active projects and to serve as a communication platform for an evolving Portfolio and Project Management practice within ITS.
As its first major deliverable, the new PMO website delivers a Project Dashboard of current ITS projects!
With the launch of this website, the University community can now more easily stay informed on current ITS initiatives and focus areas for the PMO. We welcome Divisions across the University to connect with the ITS PMO to explore possible areas of collaboration, including working together on a community of best practices.    
We encourage your questions and feedback, please send them to Rajiv Kaushik, (Acting) Director, PMO, Information Technology Services.