Information Technology Services (ITS)
Living our core values
Published on: May 14, 2018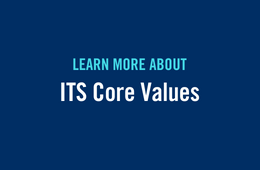 What do you value in a workplace? We listened – and heard your voices. After team meetings and staff input the Information Technology Services (ITS) core values were announced at this year's TechKnowFile (TKF) conference on May 4th.
The values are:
Service and operational excellence
Creativity and critical thinking
Team work
Shared leadership
Culture and learning
Bo Wandschneider, CIO says, "These shared values form a solid foundation and reflect on what we do every day within ITS and how we interact with each other and our partners – today and in the future."
Visit our website to learn more about the core values:
https://its.utoronto.ca/about/core-values/
We want to hear about how you, your team and colleagues are bringing these values to life every day. Does your team provide service that goes above and beyond? Is your coworker always coming up with creative solutions to solve problems? Share your values in action stories with us today at ITS.EdA@utoronto.ca.