Information Technology Services (ITS)
ITS at CANHEIT 2014
Published on: June 4, 2014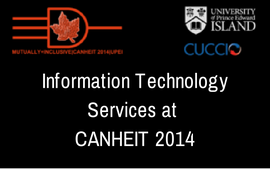 CANHEIT, the only national conference for higher education IT professionals in Canada, brings together over 400 IT leaders, decision-makers, and professionals to connect, share, discuss challenges, and explore new ideas, technologies, and opportunities. Hosted each year by a CUCCIO member institution, CANHEIT is the not-to-be-missed event in the higher education IT calendar. Host institutions roll out the welcome mat and offer colleagues a chance to get away from the office and immerse themselves in keynotes, themed presentations, panels, impromptu networking opportunities, and social events.
This year, University of Toronto Information Technology Services presented at four different sessions:
Robert D. Cook, CIO, University of Toronto
IT doesn't "own" the "business" of the university, but it is increasingly a partner in most of the teaching, learning, research and administrative activities that define the university mission. Maybe it's that broad perspective that heightens our sensitivity to the risks of business interruptions and institutional readiness to mitigate effects and recover quickly.
In this session I'll describe the University of Toronto context, and the evolution of steps we are taking using a software-as-a-service continuity planning tool, Kuali Ready, to prepare for continuity of services in academic and administrative departments across the university.
---
Graham Kemp, Director, Enterprise Applications and Solutions Integration
The University of Toronto is in the process of re-defining student information services and has embarked a multiyear program for the development of the Next Generation Student Information Services. This is possibly the largest and most complex program undertaken by the university requiring collaboration from across the entire community and at all levels of management. A hybrid approach for the development and providing these new services has been adopted and includes; in-house development, packaged off the shelf solutions and participation in the KUALI open source consortium.
In this presentation there will be a discussion of the university's road map, deliverable's to date as well as the challenges both functional and technical that have been overcome and those which will be faced and need to be managed into the future toward implementation and beyond. The presentation will also provide an overview of the strategies employed to achieve balance to deliver services with all the competing requirements, resource constraints and changing technologies.
---
Rajiv Kaushik, Program Director, Kuali Student
Abstract:
Kuali Student is a community-source Student Information System being developed and implemented by several institutions. This session will be an interactive discussion about options available to institutions looking to replace and/or augment their Student Information Systems. It will also cover the Kuali Student Roadmap i.e timing and availability of various modules.
Description:
This session will create awareness about the value proposition and availability of Kuali Student (KS). KS is delivering Student System functionality at a rapid pace, some of which has already been implemented at several institutions. A review of the Kuali Student Roadmap will inform the participants about what is available to implement and when the remaining modules will be delivered over the next 2 years.
The session will be relevant for institutions looking to replace and/or augment their current Student Information system (SIS), whether it is homegrown or ERP. Student Systems at several institutions are lacking needed functionality, the platform is dated, and are becoming too expensive to maintain. Getting these systems up-to-snuff would require very large investments in new skills, new platforms, new architecture, and new staff. In this session participants will engage in a discussion of strategies used by the Kuali Student community to replace and/or enhance current Student Systems on campus. Kuali software is generating tremendous global interest because of the open source nature of the software- it's open-ness, community backing, flexibility, quality of user experience, and lower cost of ownership.
Outcomes:
Participants will learn about the delivery timeline of Kuali Student – when each module can be implemented by institutions
Participants will learn about available options to augment or replace their current SIS with open-source applications from Kuali Student
Participants will be able to go back to their home institution and start/influence a discussion about their institutions' longer term strategy for a new or renewed SIS
---
Tamara Adizes
K.I.S.S. (Keep It Simple, Stupid) is a mantra for writing simple, personal narrative to help engage the user.
At the University of Toronto's Information Technology Services, we found ourselves looking at IT content sprawled across multiple websites. The IT information buffet was clearly not appetizing to our users. They could not find us or the information they needed.
The solution was to organize our information in a simplified manner, using automation to maintain information integrity, and to create a friendly and familiar point of access for service information.
In this session, I will demonstrate our IT service catalogue and how we have structured it to meet multiple objectives, including:
Organize IT services and create a custom portfolio management solution
Simplify IT content for the every day non-technical users
Increase service utilization and visibility
Establish a user-friendly brand for the central IT portfolio