Information Technology Services (ITS)
IT Service Catalogue Improvements
Published on: April 8, 2015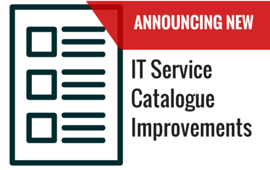 Following feedback from users and IT divisions, we have implemented a number of IT Service Catalogue improvements to better serve clients. The improvement cycle will continue with the ultimate goal of adding the ability to maintain a complete service cycle in the catalogue, display knowledge base, help desk and system status integration, tracking the total cost of service, among other useful features such as service governance and management.
We invite the IT community and clients to continue providing us with valuable feedback for future improvements.
New features:
Meta tags: This feature was widely requested to enhance the search function. Service owners can now add meta tags to the service entry
Related Services: Service owners can now display related services to help clients see the connections to other relevant services with a single search
Divisional Owners: The catalogue has now been expanded to enable Divisional IT service owners to maintain their own services independent of ITS within the central catalogue
Enhanced User Management: In order to accommodate Divisional IT services, we expanded the user management interface to enable multiple users and administrators
Analytics: The IT Service Catalogue can now track analytics by service for better understanding of the most used and visited services
If your division is interested in including their IT services in the IT Service Catalogue or would like to learn more about the features and benefits, please contact Tamara Adizes for a consultation.