Information Technology Services (ITS)
International students benefit from new network service
Published on: July 23, 2020
On July 9, Information Technology Services (ITS) launched the Alibaba Cloud Enterprise Network (CEN). This service provides lower latency connectivity for international students living in mainland China; most notably allowing students to access the U of T network and resources, such as Quercus, Collaborate Ultra and more.
"The development and execution of this partnership with Alibaba is the result of extensive consultation with our peers in Canada, Australia and the National Research and Education Network," explains Bo Wandschneider, chief information officer, ITS. "In addition, we heard from many individuals across the U of T community to help inform the solution."
Within 24 hours of its launch, U of T students from across China were signed up for Alibaba CEN. To date (as of July 23, 2020), the CEN service has had a total of 728 unique logins. Within the last 24 hours, there have been a maximum of 90 concurrent connections, including 51 in Shanghai, 35 in Beijing and 13 in Shenzhen.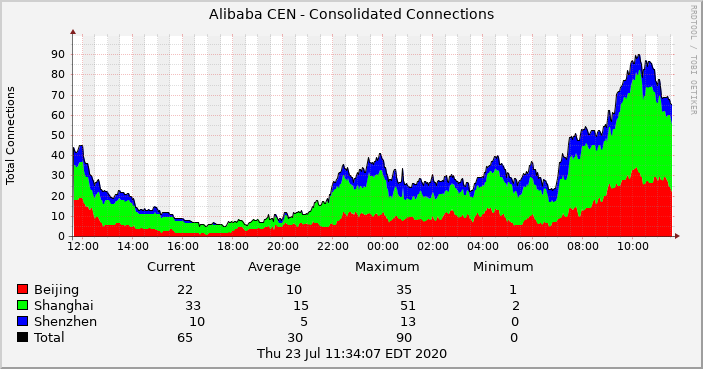 See more Alibaba CEN utilization stats here.
"We are happy to report that U of T's international students are already benefitting from this new service," said Patrick Hopewell, director of enterprise infrastructure solutions, ITS. "We are confident this will help enhance their online learning experience and provide a fast, reliable and consistent connection to the U of T network and services as they learn remotely."
For more information about this service, visit the ITS website.