Information Technology Services (ITS)
In the Loop Newsletter, August & September 2017
Published on: September 13, 2017
Volume 4, Issue 1
---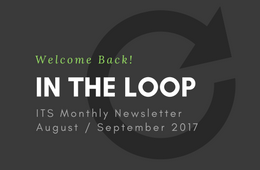 Read it Online
Corrections
In this issue, we accidentally linked to the UTM-specific Wireless Citizens video, instead of the latest version that was created for all three campuses.
The information in both videos is accurate, but please have a look at the video we meant to share below, to learn more about being a good wireless citizen on campus.

And please be sure to share it with other students and staff too!
---
About In the Loop
In the Loop is a monthly newsletter created by University of Toronto's Information Technology Services to share information about technology-related projects and events of interest to ITS staff and the UofT community.
For the publication schedule and past issues, visit our In the Loop page.