Secure Together – An information security virtual panel event
October 26 @ 11:00 am

-

12:00 pm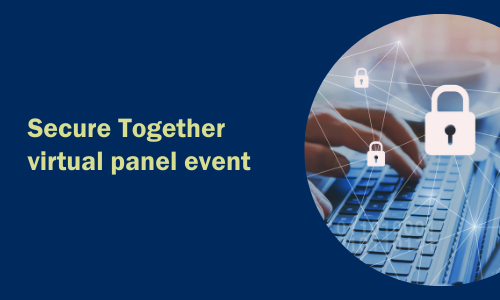 Effective information security is an essential part of staying safe in our increasingly virtual world. Join the Information Security team within the Information Technology Services (ITS) division at the University of Toronto (U of T) to celebrate Cyber Security Awareness Month and learn how to protect yourself, your data and your privacy online.
In this one-hour virtual panel event, you will hear from experts in information security and workforce infrastructures, nation state threats and governmental policy. By making simple changes to how we connect, work and learn online, we can stay secure together. Q&A session to follow.
All U of T students, staff and faculty are welcome. Please register to receive a calendar invitation to this event.
Participants will have a chance to win a $50 gift card to the U of T campus bookstore.
Register at https://its.eve.utoronto.ca/home/events/1975.
RSVP by October 25 at 5 p.m.
---
Additional Information
Moderated by:
Isaac Straley
Chief Information Security Officer
U of T
Featuring presentations from:
Abdullah Alagha
Cloud Security Consulting Lead, Accenture
Cybersecurity Instructor, U of T
Ron Deibert
Director, the Citizen Lab, Professor, Political Science
Munk School of Global Affairs and Public Policy
U of T
Julia Le
Senior Manager,
Cyber Security Education & Centre of Excellence,
Government of Ontario
Panelist biographies:
Abdullah Alagha started their career in cyber security working in the weeds of servers and network device installation, providing first-hand exposure to what differentiates secure from not-so-secure IT architectures. Abdullah has designed and implemented IT and security systems for organizations in three countries, ranging from 500 to 130,000 users. Additionally, Abdullah has a registered cyber security patent and a few others lined up for registration. Abdullah is a continuous learner and teacher, aiming to equip the new generation of enterprise defenders with the necessary skills to beat cybercrime.
Ron Deibert (OOnt, PhD, University of British Columbia) directs Citizen Lab, an interdisciplinary laboratory focusing on research, development, and high-level strategic policy and legal engagement at the intersection of information and communication technologies, human rights and global security. Ron is the author of several books, including Reset: Reclaiming the Internet for Civil Society, which was delivered as part of the 2020 Massey Lecture series.
Julia Le leads Ontario's Cyber Security Centre of Excellence and provides advice and information sharing to improve Ontario's cyber security posture to meet the digital service expectations of Ontarians. Julia holds a Bachelor of Law and Criminology from Wilfrid Laurier University and a Master of Public Policy from the University of Waterloo. With a professional career spanning all levels of government, she has held progressive roles in areas such as cyber security, innovation and economic development and immigration.