Information Technology Services (ITS)
Don't wish for an App, make one!
Published on: February 21, 2014
By: Elizabeth O'Gorek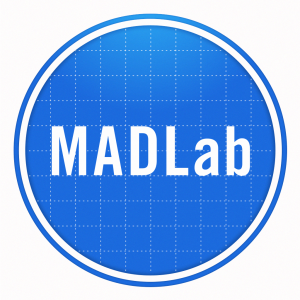 In the basement of Gerstein Library there is an incubator – a Moblie Apps incubator. MADLab, the University's Mobile Application Development Laboratory, is located in Room B112 at the south end of the first basement. It has everything you need to get an app off the ground including whiteboards, tables, two workstations with mobile software development kits (SDKs) with design software and (oh, so critical to the promotion of development), coffee machines. Oh, and space! Space for anyone at the university who might be interested in making apps. There is also a plan to build and maintain a library of test devices.
MADLab is dedicated to accelerating app development at the University, working with the Android, iOS and HTML5 platforms. The Lab provides assistance at every stage of app development, from idea and design to deployment and support and even consultation for interested departments "ranging from advice for those not familiar with the process, down to actual app development from start to finish," says MADLabs Manager Michael Spears. "We also host open houses (about once a week), app demo events and workshops."
The Lab has developed or helped developed multiple internal apps as well as academic apps for commercial release. This past month the Engineering & Computer Science Library held a Hack-DesignFest, wherein currently enrolled U of T graduate and undergraduate students spent a day and a half collaborating to create an app, website, game or design. "I'd like to see more app developers make their home inside the MADLAb," Spears says.
"My door is always open to anyone who would like to share their latest app idea" he says.
"Even a philosophy student with no previous programming knowledge, just an idea?" I ask him. "Absolutely," he responds, adding that a partner might be found within the community "to help them make it a reality".  
Apps don't have to be related to campus services, or to the University; they just need to be created by people at the University. MADLab can provide space, equipment and development assistance. Spears would like to see more collaboration between student start-ups and external businesses at MADLab, "working here together and sharing skills and experience." He encourages students interested in app development to look "outside of their own personal day-to-day experience," to look for problems to solve with software "in a wide variety of fields at UofT."
Of course, the Lab can also do start to finish app development. Spears recently put together an app for the Teaching and Learning Symposium conference. "I was able to develop [it] in just a few days based on source code that we have developed for other projects," he notes, drawing attention to two more resources in the lab –source code and Spears himself. MADLab is an incredibly valuable asset to people at UofT interested in App Development –workspace, knowledge, tools, coffee—all at the heart of downtown campus. This is centrally located opportunity. Check it out and see what you could do together.
Visit the MADLab: 9 King's College Circle, Hours are generally Monday – Friday 9 AM – 5 PM, but it is recommended to contact them for an appointment.