Information Technology Services (ITS)
Did you receive an email from Quercus about U of T's online AODA training?
Published on: August 2, 2018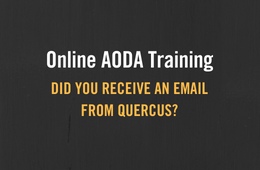 The University's Accessibility for Ontarians with Disabilities Act (AODA) Office 30-minute online training modules are moving from Portal to Quercus. As a result, notifications asking participants to register as a student in the course are being sent out by Quercus <notifications@instructure.com>.
If you are concerned about the legitimacy of this email, you can access the AODA course by logging into Quercus (q.utoronto.ca). You can also access more information on the HR & Equity website: https://people.utoronto.ca/inclusion/accessibility/.
All University of Toronto employees must complete the online AODA training, as it is a legislative requirement.
Please direct all queries to the AODA Office at aoda@utoronto.ca.
For technical issues using Quercus, please contact q.help@utoronto.ca.
For anything else related to this training, please email aoda@utoronto.ca.