Information Technology Services (ITS)
Community engagement
Community Consultation Process
Input of staff, partners and stakeholders has been critical to the development of the plan. Meetings and focus groups took place over an eight month period to gather valuable community feedback. The full process including milestones is outlined below.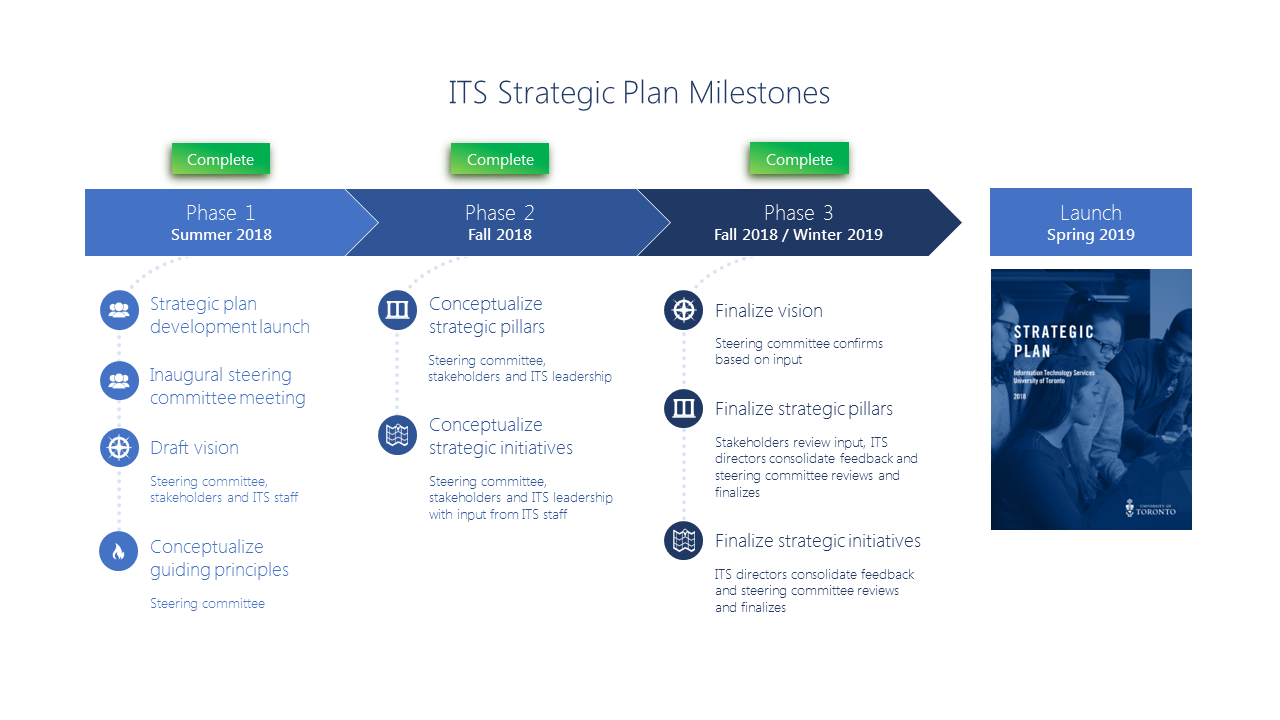 Click here to view PDF version.
---
Stakeholder engagement
During the consultation process, 670 IT staff, faculty students and administrators participated in our community consultation as part of the IT@UofT strategic plan process and actively participated in creating the vision.

---
Steering committee
The University of Toronto IT@UofT strategic plan steering committee met each term to provide guidance and recommendations from an institutional perspective.
Members of the IT@UofT strategic plan steering committee:
| NAME | TITLE | FACULTY/DEPARTMENT |
| --- | --- | --- |
| Diane Horton | Associate Professor, Teaching | Computer Science |
| Donald Boyes | Associate Professor | Department of Geography & Planning |
| Sean Suleman | Director, Human Resources & Workplace Investigations | People Strategy, Equity & Culture |
| Jay Pratt | Vice Dean | Research and Infrastructure |
| Judith Chadwick | Assistant Vice President | Research Services Office |
| Mary Lyne | Chief Administrative Officer | Rotman School of Management |
| Meagan Lau | Graduate student (Masters at iSchool) | |
| Steve Bailey | Director | Academic and Campus Events |
| Susan McCahan | Vice Provost | Innovations in Undergraduate Education |
| Ulrich J. Krull | Vice President and Principal | University of Toronto Mississauga |
| Zoran Piljevic | Information and Instruction Technology Services Director | University of Toronto Scarborough |
---
Community Engagement Resources