Information Technology Services (ITS)
5-Digit Dialling on St. George Campus
Published on: March 31, 2017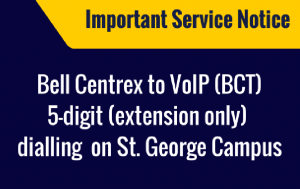 As you may have seen announced on the ITS home page, ITS' Telecom department has recently selected a hosted VoIP solution to replace the legacy Bell Centrex service currently in use on campus.  The company selected to provide the VoIP service is called BroadConnect (BCT).
Information Technology Services will be the first department to make the move to the new VoIP solution so that we can work out any bugs in the migration and to learn from the process so that subsequent departments experience as smooth a transition to VoIP as possible.
5-Digit (Extension only) Dialling on St. George Campus:
One of the end user experiences that will be immediately affected is 5 digit dialling (direct extension dialling).  Currently, Bell Centrex users are able to dial 946- and 978- numbers using only the last 5 digits of the phone number.
Once a phone line is moved from Bell Centrex to BCT (VoIp), that number will no longer be reachable from a Bell Centrex line using 5 digits.  Users will be required to dial all 10 digits of the phone number.  If they call the number using only 5 digits, they will hear a 'your call cannot be completed' message.  BCT users will be able to dial both Bell Centrex and BCT phone numbers using only 5 digits.
Here is a chart which shows the circumstances under which 5 digit dialling will and will not work:
| Calling Scenario | Does 5 digit dialLing work? |
| --- | --- |
| Centrex to Centrex | YES |
| Centrex to BCT | NO (you must dial 9 + 10 digit phone number) |
| BCT to Centrex | YES |
| BCT to BCT | YES |
Note:  BCT users will not have to dial 9 before dialling a 10 digit phone number.
Any phone number that does not start with 416-978- or 416-946- will require you to dial all 10 digits.  That has always been the case and will continue to be the case.
For more information on the VoIP project or any other Telecommunications-related issues, please visit the Telecom website:  http://telecommunications.utoronto.ca
We will be updating the website with more information about the VoIP migration project on a regular basis, so please check back frequently. Please contact us if you have any questions.